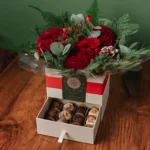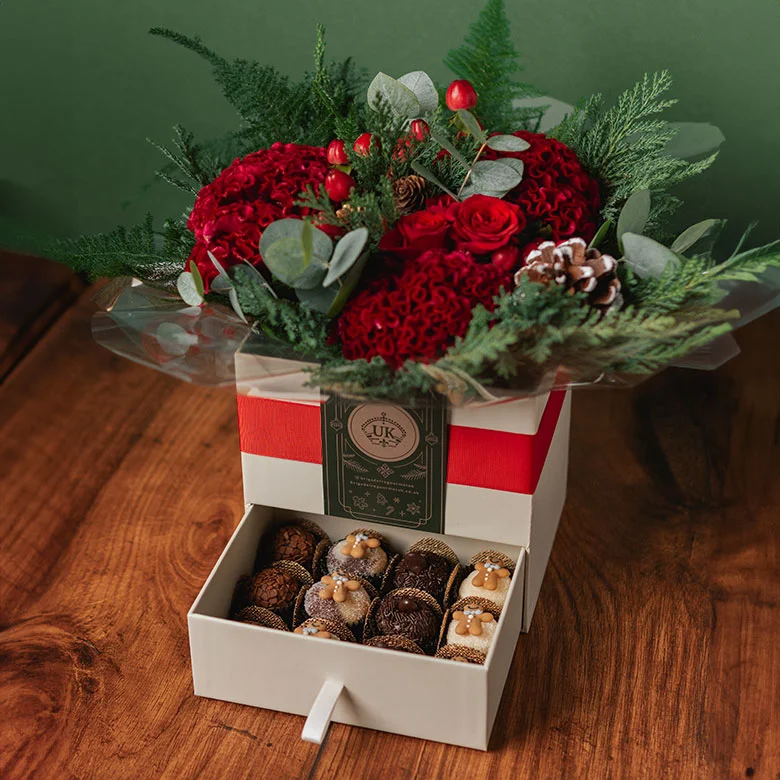 Christmas Flower Box
Christmas Box with 24 Brigadeiros
£35.00
Choose up to 6 flavours and 6 of them come with a festive themed decoration.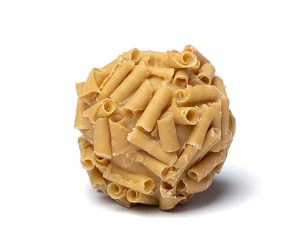 Caramel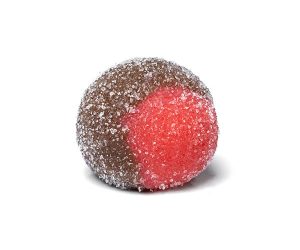 Strawberry Choco Milkshake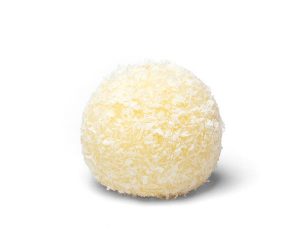 Coconut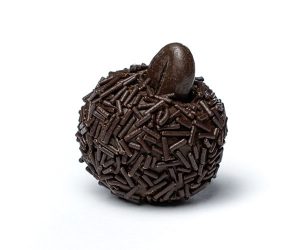 Coffee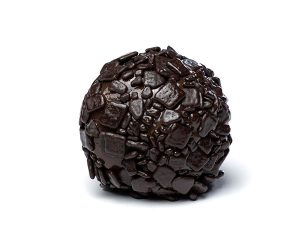 Dark Chocolate
Dried Milk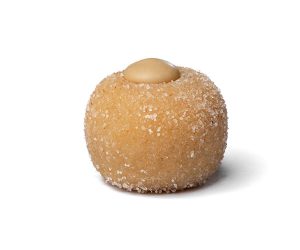 Dulce de Leche with Cinnamon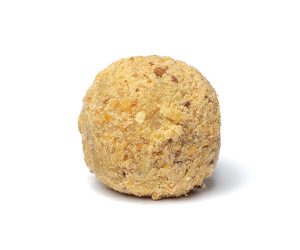 Ground Peanuts Sweet (Paçoca)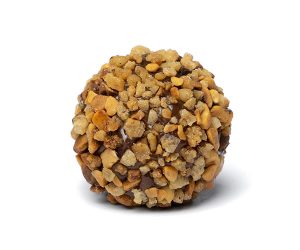 Hazelnut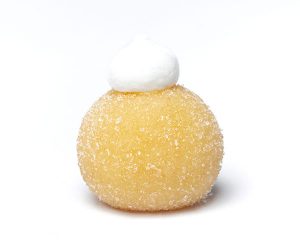 Lemon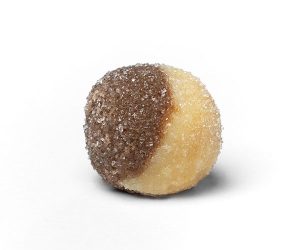 Milk and White Chocolate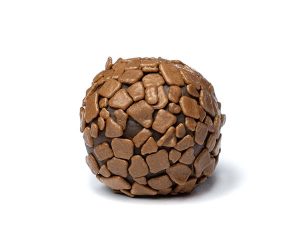 Milk Chocolate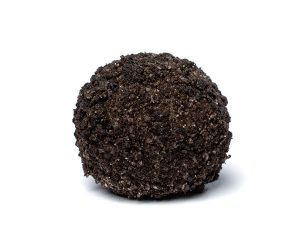 Oreo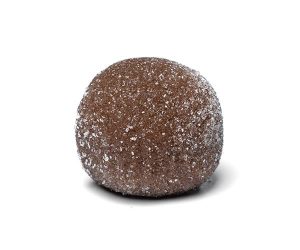 Ovomaltine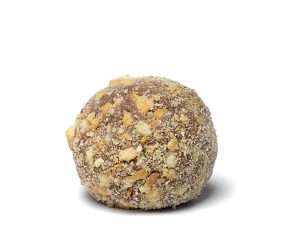 Palha Italiana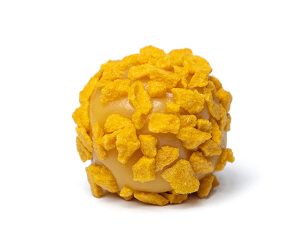 Passion Fruit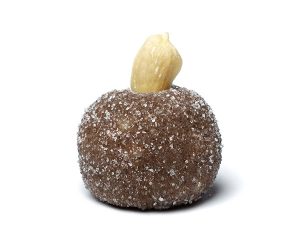 Peanuts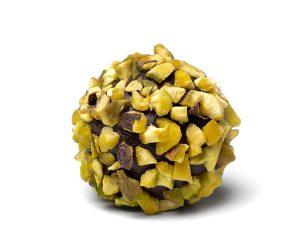 Pistachio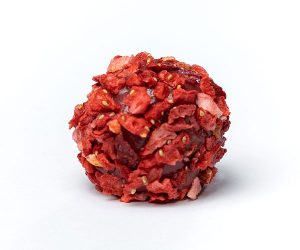 Raspberry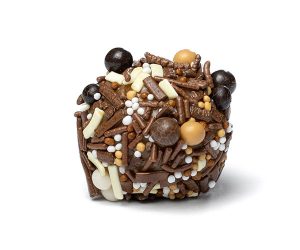 Salted Caramel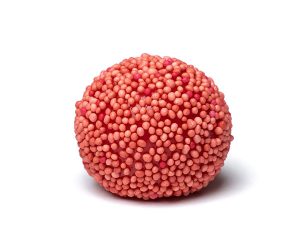 Strawberry Milkshake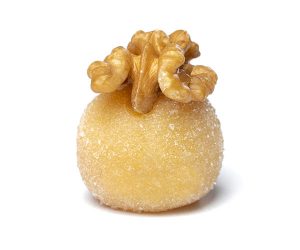 Walnut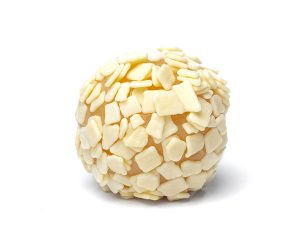 White Chocolate
---
---
Christmas Box with 24 Brigadeiros
Choose from 25 flavours. 12 of them come with a festive themed Sugar Christmas Deco to enhance your Christmas Gift.
Allergens

Flavours

Up to 6 flavours

Vegan

Not Vegan
If you are looking for a vegan option, we have an entire session prepared with lots of love and care for you!
Check Vegan options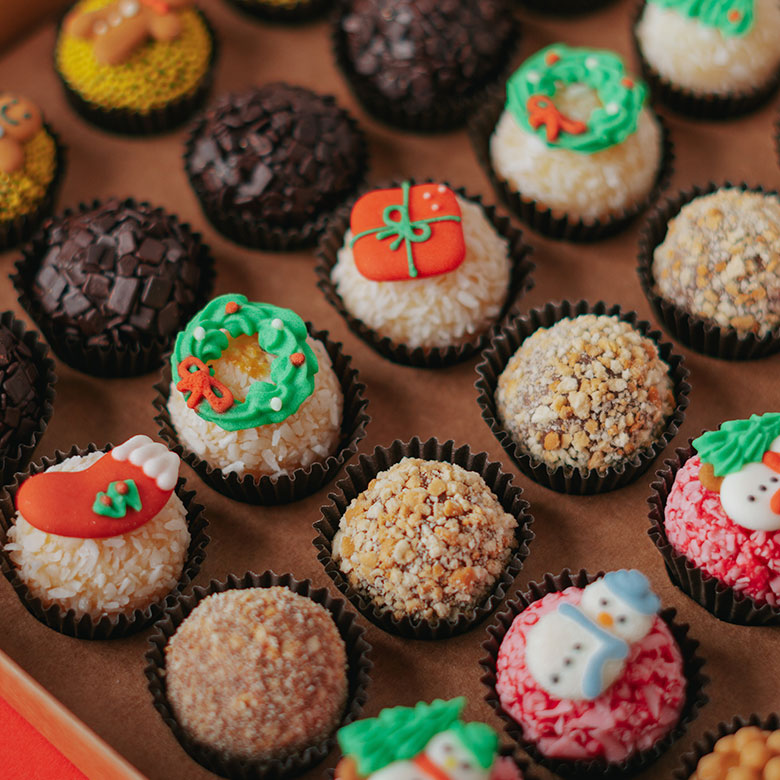 ---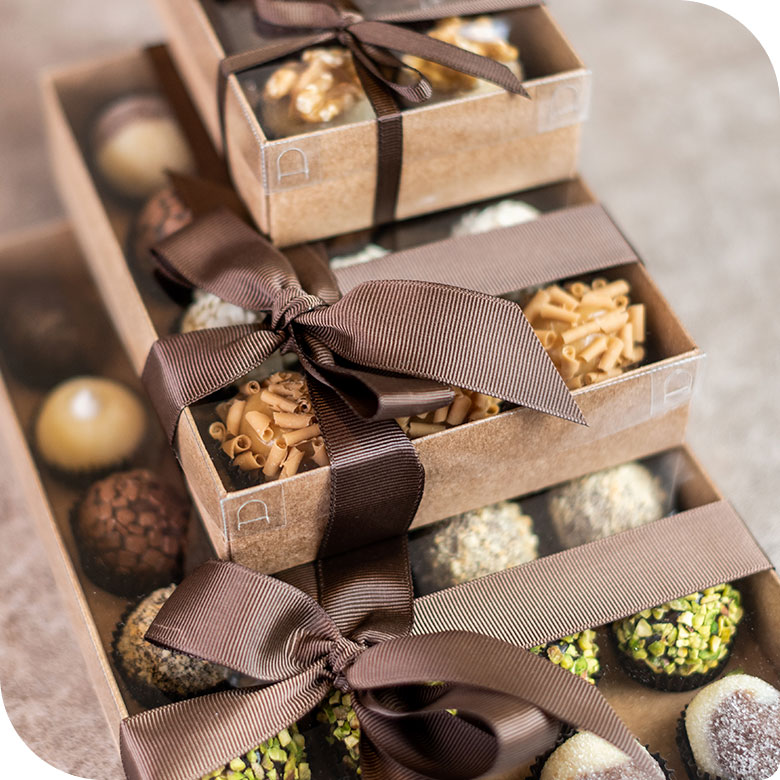 ---
So much love
Brigadeiros come in a number of different colours and flavours: they are little balls, almost truffle-like and a little light fudge in consistency, made by hand with swiss cocoa, condensed milk and double cream.
They were first created back in the 1940s and vary in offerings, from milk chocolate to dark, milk and white, white, Ovaltine, biscuit, Oreo, pistachio, walnut, lemon, coconut, dulce de leche, peanut and hazelnut (their newest flavour!).
They're decadent and moreish and within a few months of launching to the UK, has garnered a fiercely loyal following.
| | |
| --- | --- |
| Weight | 0.3 kg |
| Dimensions | 30 × 30 × 30 cm |
| Flavors 01 | Caramel, Choco-Strawberry, Coconut, Coffee Brigadeiro, Dark Chocolate, Dried Milk, Dulce de Leche with Cinnamon, Ground Peanuts Sweet Brigadeiro (Paçoca), Hazelnut, Lemon, Milk and White Chocolate, Milk Chocolate, Oreo, Ovaltine, Palha Italiana, Passion Fruit Brigadeiro, Peanut, Pistachio with Dark Chocolate, Red Berries Brigadeiro, Romeo & Juliet, Salted Caramel Brigadeiro, Strawberry Milkshake, Walnut, White, White Brigadeiro with Confetti |
| Flavors 02 | Caramel, Choco-Strawberry, Coconut, Coffee Brigadeiro, Dark Chocolate, Dried Milk, Dulce de Leche with Cinnamon, Ground Peanuts Sweet Brigadeiro (Paçoca), Hazelnut, Lemon, Milk and White Chocolate, Milk Chocolate, Oreo, Ovaltine, Palha Italiana, Passion Fruit Brigadeiro, Peanut, Pistachio with Dark Chocolate, Red Berries Brigadeiro, Romeo & Juliet, Salted Caramel Brigadeiro, Strawberry Milkshake, Walnut, White, White Brigadeiro with Confetti |
| Flavors 03 | Caramel, Choco-Strawberry, Coconut, Coffee Brigadeiro, Dark Chocolate, Dried Milk, Dulce de Leche with Cinnamon, Ground Peanuts Sweet Brigadeiro (Paçoca), Hazelnut, Lemon, Milk and White Chocolate, Milk Chocolate, Oreo, Ovaltine, Palha Italiana, Passion Fruit Brigadeiro, Peanut, Pistachio with Dark Chocolate, Red Berries Brigadeiro, Romeo & Juliet, Salted Caramel Brigadeiro, Strawberry Milkshake, Walnut, White, White Brigadeiro with Confetti |
| Flavors 04 | Caramel, Choco-Strawberry, Coconut, Coffee Brigadeiro, Dark Chocolate, Dried Milk, Dulce de Leche with Cinnamon, Ground Peanuts Sweet Brigadeiro (Paçoca), Hazelnut, Lemon, Milk and White Chocolate, Milk Chocolate, Oreo, Ovaltine, Palha Italiana, Passion Fruit Brigadeiro, Peanut, Pistachio with Dark Chocolate, Red Berries Brigadeiro, Romeo & Juliet, Salted Caramel Brigadeiro, Strawberry Milkshake, Walnut, White, White Brigadeiro with Confetti |
| Flavors 05 | Caramel, Choco-Strawberry, Coconut, Coffee Brigadeiro, Dark Chocolate, Dried Milk, Dulce de Leche with Cinnamon, Ground Peanuts Sweet Brigadeiro (Paçoca), Hazelnut, Lemon, Milk and White Chocolate, Milk Chocolate, Oreo, Ovaltine, Palha Italiana, Passion Fruit Brigadeiro, Peanut, Pistachio with Dark Chocolate, Red Berries Brigadeiro, Romeo & Juliet, Salted Caramel Brigadeiro, Strawberry Milkshake, Walnut, White, White Brigadeiro with Confetti |
| Flavors 06 | Caramel, Choco-Strawberry, Coconut, Coffee Brigadeiro, Dark Chocolate, Dried Milk, Dulce de Leche with Cinnamon, Ground Peanuts Sweet Brigadeiro (Paçoca), Hazelnut, Lemon, Milk and White Chocolate, Milk Chocolate, Oreo, Ovaltine, Palha Italiana, Passion Fruit Brigadeiro, Peanut, Pistachio with Dark Chocolate, Red Berries Brigadeiro, Romeo & Juliet, Salted Caramel Brigadeiro, Strawberry Milkshake, Walnut, White, White Brigadeiro with Confetti |